Deneb Pro a multipurpose WordPress theme designed to fit any type of brand, company, organization or cause. Deneb Pro has all the features and functionality that any modern WordPress theme needs. It has features such as full responsive, associate logo, content widget areas (1,2,3), featured content, hero content, WooCommerce ready, slider, key features, skills, stats, pricing table, playlist, portfolio, promotion headline, team, testimonial and so on. With above features it is possible to create any website, and can be personalized according to your organization or brand or company. Deneb Pro comes with many demos which will certainly give you idea about what type of website you would like to build. It has simple yet stunning design which is light weight as well. It is a user friendly modern and clean e-commerce theme that will put your products, prices and deals in the spotlight which will attract more visitor on your site. Visit https://fireflythemes.com/support for support, https://fireflythemes.com/documentation/deneb-pro for theme documentation and https://demo.fireflythemes.com/deneb for demo.
Features of DenebPro:
1. Breadcrumb
Theme Option > Breadcrumb
Breadcrumb option in Deneb Pro option allows user to indicate where the user is on the side. This option comes very handy, you will have enabled Breadcrumb option from your customizer to view it.
2. Buttons
Theme Option > Buttons
Buttons option will allow you to change Border radius of the buttons that are present all over website.
3. Fonts
Theme Option> Fonts
Deneb Pro have option to change Fonts which change font of each sections according to your choice
4. Footer
Theme option> Footer
Footer section in Deneb Pro changes footer copyright text, it has further option to change footer styles too.
5. Associate Logo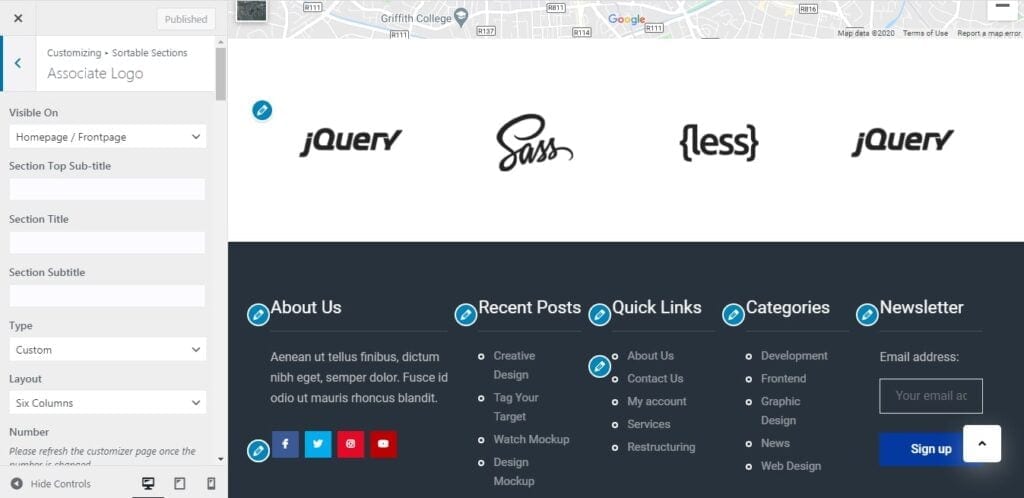 Sortable Sections > Associate Logo
Associate Logo option allows you to add the logo and description of the brand or company you are associated with. You can choose type as page, post, category, tags or custom as associate logo.
6. Featured Grid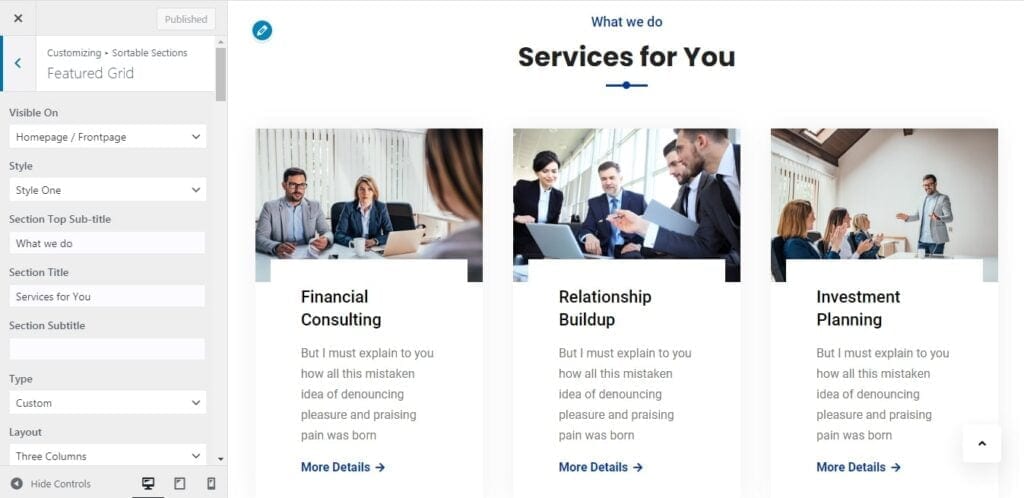 Sortable Sections > Featured Grid
Deneb Pro theme has featured grid option, here you can add page, post, category, tags or custom as featured grid. You can highlight the important section or page as featured grid it has two different styles to choose from and 4 different layout options which makes your content standout. Your content you have chosen will display in a grid form.
7. What we do
Sortable Sections > What we do
What we do section can be used to add information about your business. This will give your customer/visitor idea about the services or product you provide. You can choose page, post, category, tags or custom as what we do section. Further option to add images, icon and choose styles to display it in more elegant manner.
8. Key Features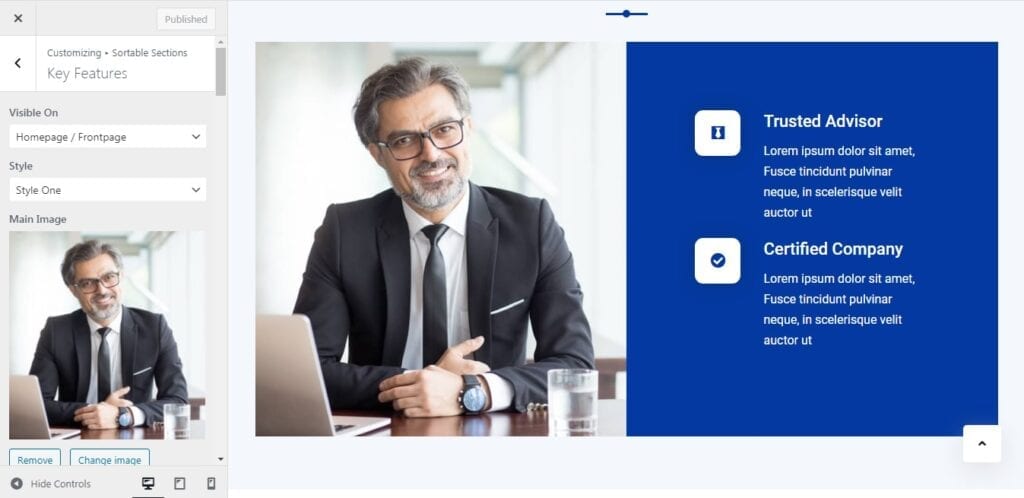 Sortable Sections > Key Features
Key Features section allows you highlight main features of your business. You can add page, post, category, tags or customs as key features. To make it stand out we have added 2 different style options, main image and color options too. This option will surely help to display main features of your business in elegant manner.
9.Portfolio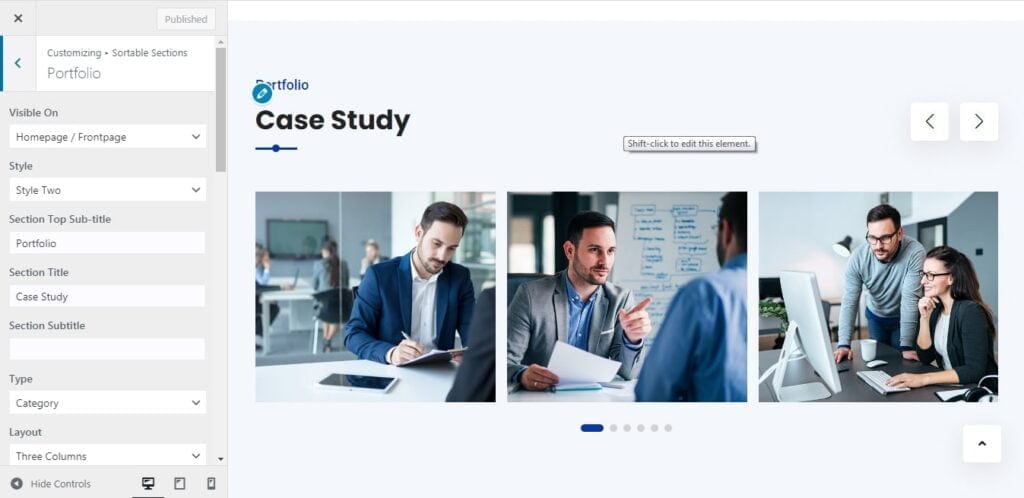 Sortable Sections > Portfolio
Portfolio option in Deneb Pro is to show your professional achievements or your experiences to the world. This will build a positive impact of your company towards you. Deneb Pro option to add your post, page, category, tags or custom as portfolio. Portfolio is displayed in a slider form which makes it more attractive.
10. Featured Video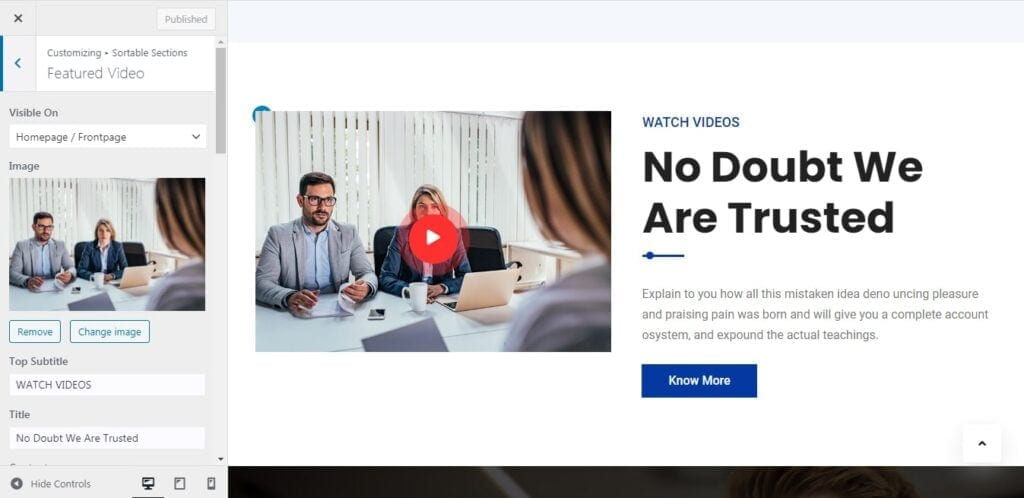 Sortable Sections > Featured Video
Another unique feature that Deneb Pro has is featured video section. Here you can showcase your video by adding video links. This option will help to define about your business, video section can come very handy if you own music related business.
11. Stats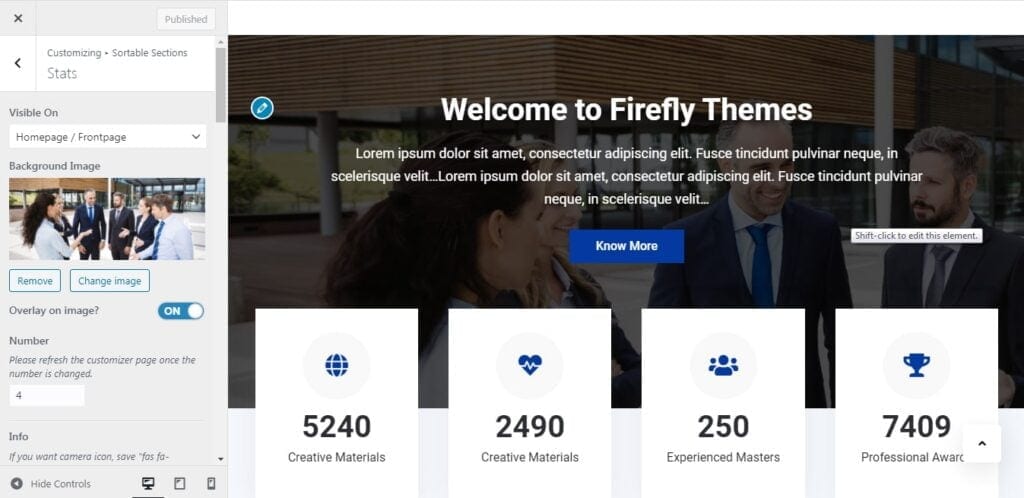 Sortable Sections > Stats
Stats is another very important feature you will get in Deneb Pro. This option allows you to show your business numbers statically. You can add beautiful icons under each item from font awesome then add number and label under individual items.
12. Product Categories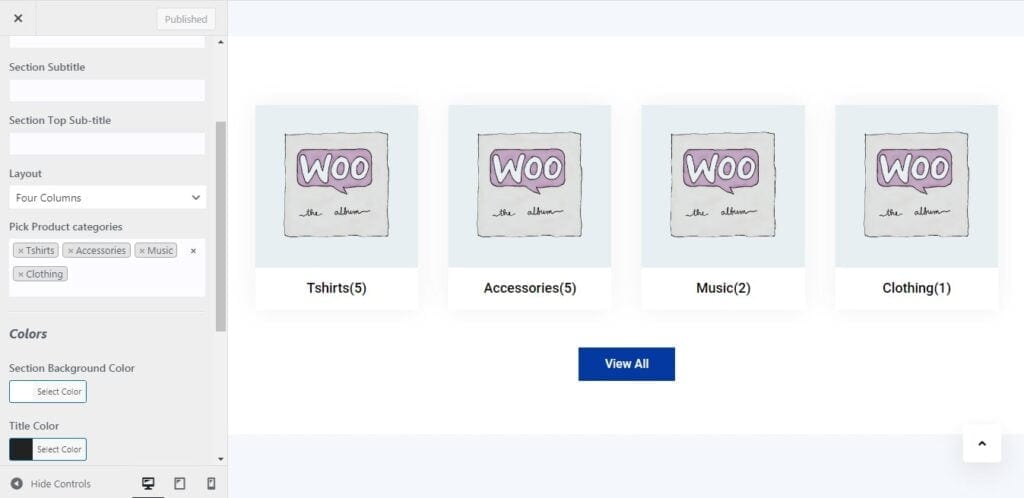 Sortable Sections > Product Categories
If you are building an e-commerce website then Product Categories option comes very handy. Product Categories allows you to list out category of the product or services you are providing. You will have to install and activate WooCommerce Plugin to use this feature.
13. Skills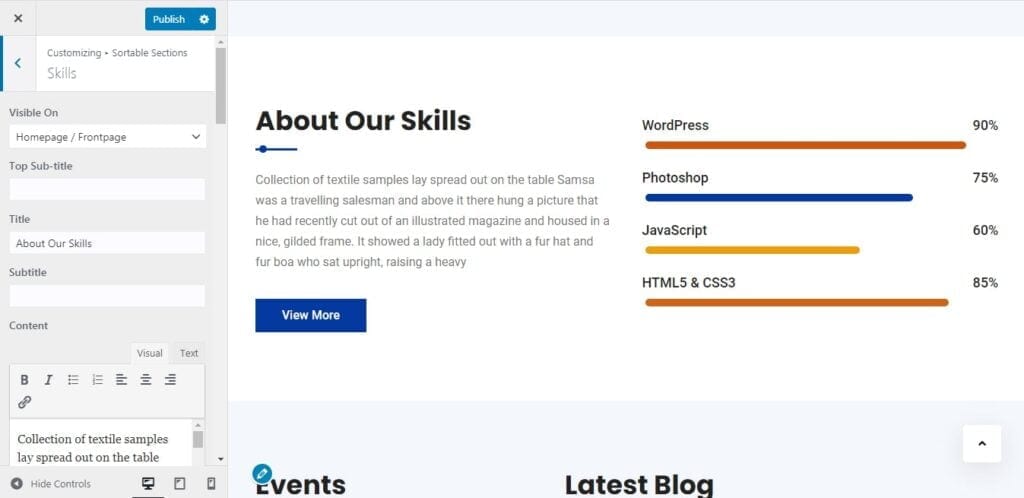 Sortable Sections >Skills
Another very crucial feature of Deneb pro is skills section, add your skill levels in certain field which is displayed in percentage it makes more elegant and clearer about how much you know about certain topic. There is no limit, add as many skills in the section.
14. News & Events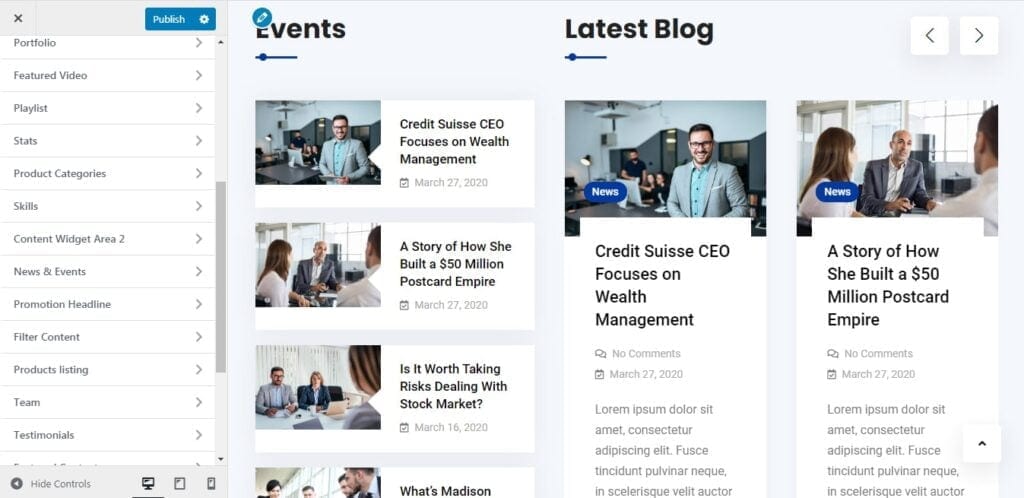 Sortable Sections > New & Events
News & Events section allows you to add latest news and happening of your company to the visitors. Add latest happening, exciting offers or new launches in this sections to make it more informative and attractive this will make your visitors up to date about any events or latest happenings.
15. Team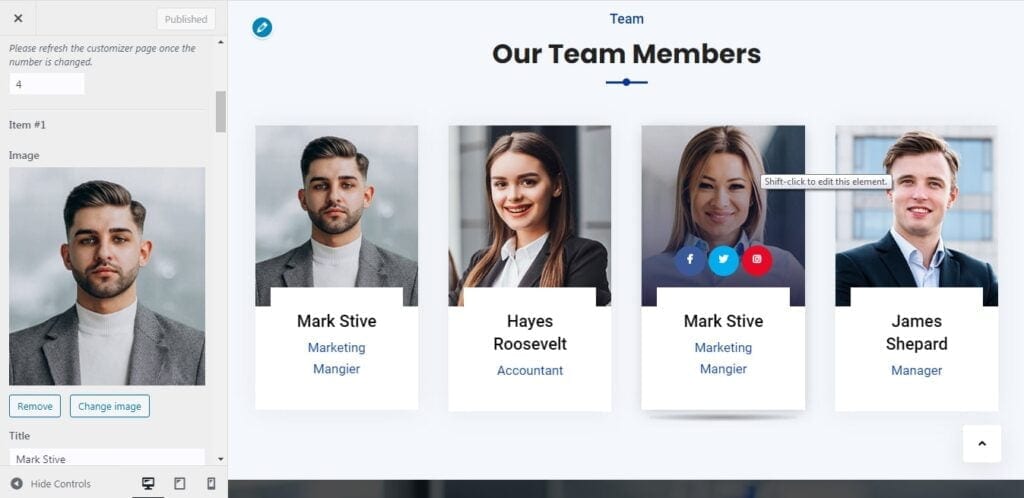 Sortable Sections > Team
Team section allows you to display your team members in an elegant and informative way. You have option to choose type as page, post, category, tags or custom as team. Add social media links of you each team members too.
16. Testimonials
Sortable Sections > Testimonials
Testimonial allows you to show the feedbacks and reviews of what your customer feels about your products or services. This is a great feature to build up trust among your new customers and gives a positive image of your company. You can add page, post, category, tags or custom as your testimonials. To make it look more attractive we have added carousel slider and various options for it.