Versatile Business Pro is a multi purpose modern WordPress theme designed to fit any kind of website. As name defines, it is very versatile and is suitable for corporate, professional portfolios, personal blogs, e-commerce, medical, construction firms, education, music and many other types of websites. Check out its demos here.
Crafted with updated secure codes, clean elegant design it have various options like slider, featured content, hero content, what we do, promotion headline, portfolio, skills, team, testimonials, featured news, contact form, associate logo and so on.
The theme is WPML compatible and responsive, which means you can translate your website to any language you want and fits on any screen size. Top of all, it comes with several predefined demos which will surely gives you idea to create your ideal website by utilizing all the features available in theme.

Features of Versatile Business Pro
Associate Logo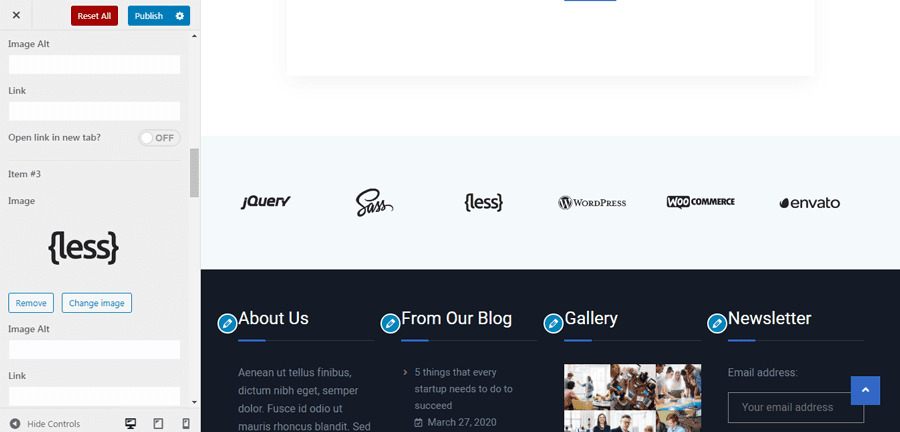 Sortable Sections > Associate Logo
Associate logo option displays the brands that you are associated with in a form of beautiful slider. Here you can customize you slider like loop mode, navigation pagination, layout , numbers. You can choose page, post, category, tags and customs as content type. It also have color option for various sections
Contact Form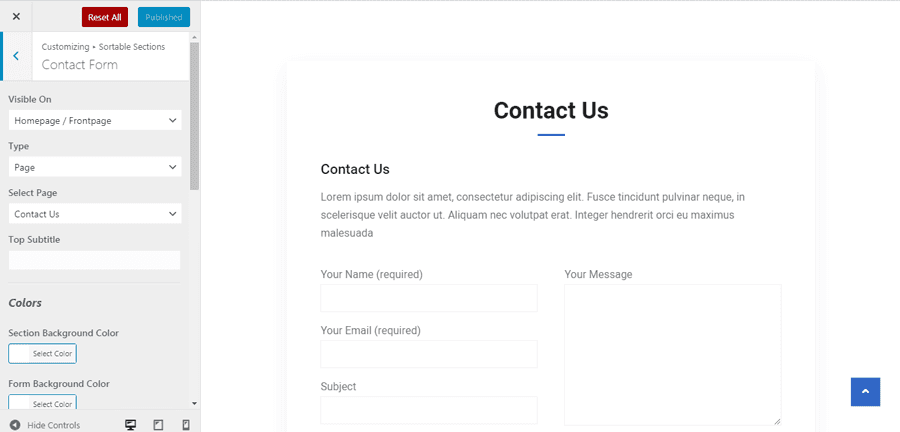 Sortable Sections > Contact Form
Contact form option is a great way for customer to contact you. Choose your content type, add title, subtitle for your Contact form. It also have color options for various section.
Hero Content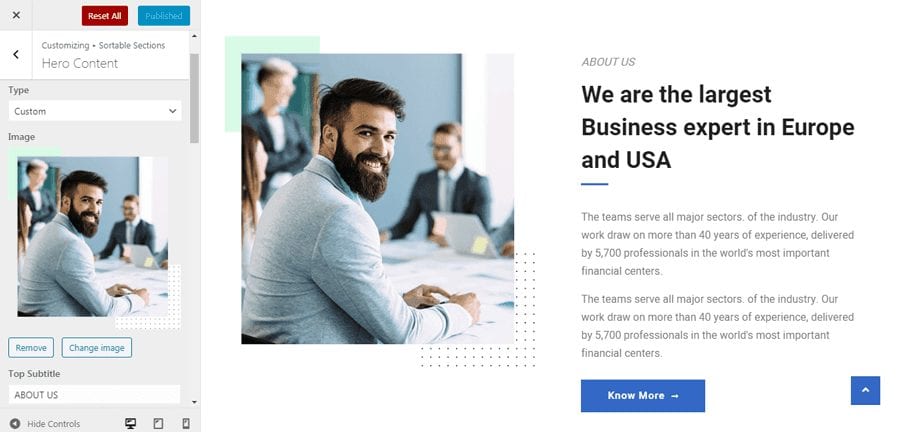 Sortable Sections > Hero content
Versatile Business Pro supports Page/Post/Category/ Tags and Custom as hero content. You can add your finest content to highlight as hero content which will grab attention of your visitors.
Featured Content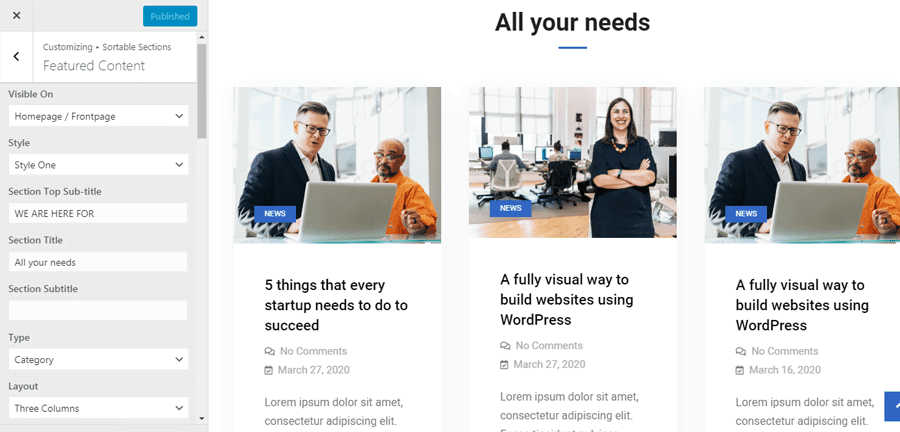 Sortable Sections > Featured Content
You can add your latest products, latest launches, posts about your products or services in featured content section. You can add page, post, category, tags or custom as featured content. It is a great option to highlight your latest updates to your audience. It have other customizable section such as colors, button text, button link, layouts, title, subtitle sections too.
Promotion Headline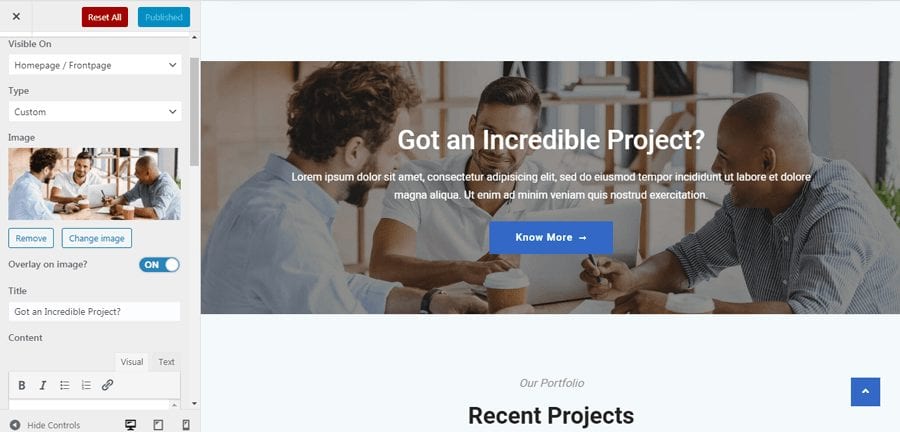 Sortable Sections > Promotion Headline
Versatile Business Pro allows you to add Promotion Headline, here you can highlight the feature of you firm. You can select the content type to display in the section—post, page, category, tag or custom that you want your audience to see.
Portfolio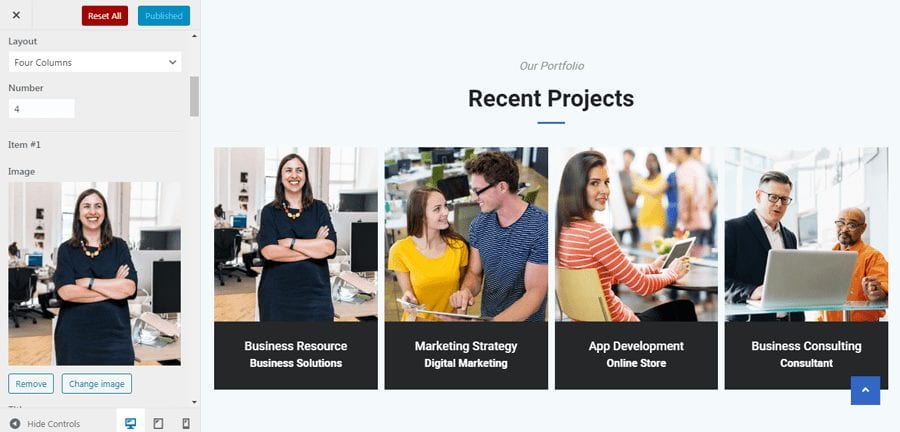 Sortable Sections > Portfolio
Portfolio section where you display your experience and achievements to your audience. You can choose content type as post, page, category, tag or custom as portfolio, further option to change section top sub-title, section title, section subtitle, layout, numbers of portfolio and colors for different sections as per your requirements.
Skills
Sortable Section > Skills
Skills is one of the great option to display your professional expertise, here you can add skill in percentage and edit colors to make this section to be more attractive. Let your customers knows about your abilities and expertise level on various skills.
Team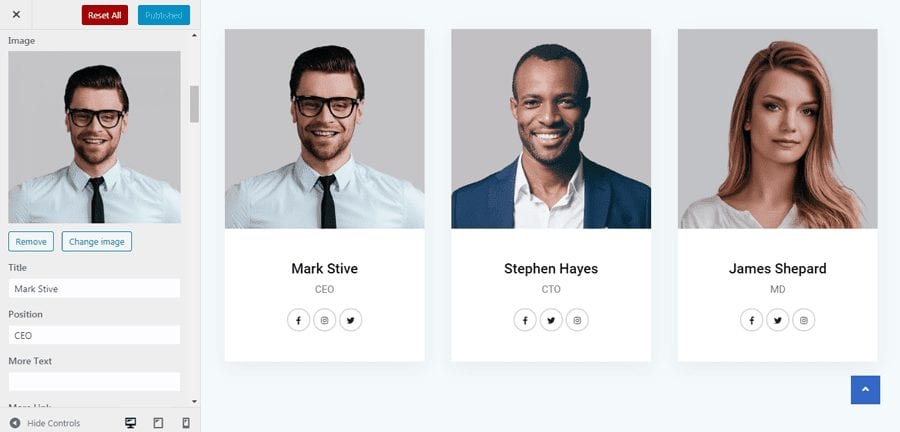 Sortable Sections > Team
Our theme supports team section, which allow you to display your team members in an informative manner. Here you can add social links of each of your team members, change colors for different sections to make it more attractive, you can choose content type as post, page, category, tag or custom.
Testimonials
Sortable Sections => Testimonials
Testimonials section helps your audiance to know what your goods and services are like. You can add customers testimonials to grow trust among you customers. Select content type as page, post, category, tags or custom as testimonial. There are other cutomizable options such as Carousel slider, layout, number, colors for various sections
What we do
Sortable Sections > What we do
Another very important feature by this theme, what we do section. Here you can describe about the services you provide. You can select the content type to display in the section—post, page, category, tag or custom. There are different options such as edit section title, section sub-title, select layout and number to make it more convenient to use.
Breadcrumb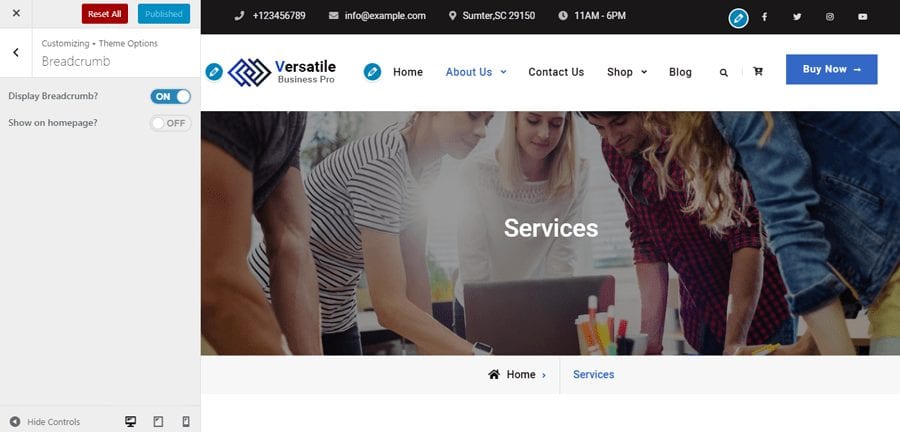 Theme Options > Breadcrumb
Breadcrumb option indicate the current page's location within a navigational hierarchy. This theme supports option to enable or disable breadcrumb.
Fonts
Theme Options > Fonts
Versatile Business Pro supports font options where you can choose different fonts for various sections.
Footer
Theme Options > Footer
Footer option allows you to edit your footer copyright text, you can also edit footer style as one column, two columns or disable it according to your need.
Header Style
Theme Options > Header Option > Header Style
Header Style is one of the unique feature of Versatile Business Pro this option displays header in 7 different styles. You can choose your header style according to your need. Here we have added further options to enable disable sticky header, email, phone, address, open hours, button text and button link option as well.
Slider
Sortable Sections > Slider
Slider is of the eye catching feature in theme, it allows you to showcase your works that might grab attention of your audience. You can display Post/ Page/ Category/ Custom or Tag as your slider. It also has other customizable option such as controlling transition speed of slider, transition effect, image overlay and colors for various sections which helps to make slider more eye appealing. If you have installed WooCommerce Plugin you can add products to your slider as well.
Check out our exciting demos and link for premium theme